The term "mature dating" is about more than just age. It also has to do with the amount and type of life experience you're bringing to the situation.
Most people in the over 50 dating scene have either lived as singles for many years or they have been in at least one marriage. These very different past life experiences can have a huge effect on how you feel when you re-enter the dating scene later in life.
Mature Single Life
If you've spent the majority of your life as an adult living on your own, you're considered to be living single. This refers to anyone who has never been married and who has not spent much time in long term relationships.
If you fall into this category, you may live on your own or with a roommate who is also single. You probably strongly value your independence. There's also a good chance that you already know what you want out of your life and have a good grasp of your own personality.
While many people who are living single understand themselves well, they don't always understand mature dating to the same degree. If you've been single for a long time, you may not really know what you want out of a relationship.
You may need to balance a demanding career or other non-relationship responsibilities. If you've been single for a long time, you may also feel lonely or suffer from a fear that you won't find a good long-term relationship.
If you fit into this description, it's a good idea to ask yourself why you're single. You may be someone who stays single because you prefer your independence and freedom. You may also live on your own because you just haven't encountered someone who meets your expectations as a partner.
These two situations lead to very different dating needs. While there's nothing wrong with enjoying primarily short-term relationships, you do need to make sure your partners expect the same.
Many people assume that mature dating is expected to end in a long-term relationship or marriage, which can lead to difficulties for those who would rather maintain their own space.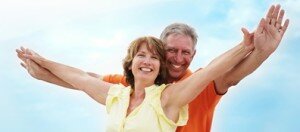 Dating After the End of a Relationship
People who haven't spent most of their lives single are usually returning to the dating scene after a divorce, a failed relationship, or the death of a partner. Getting back into dating can be complicated if you fall into this category.
You may be dealing with identity and self-esteem issues, a broken heart, and the opinions of adult children (read: Meeting your Date's Adult Children).
If you've broken up or lost a partner recently, it may be a good idea to take a little time away from the dating scene to recover emotionally. For those who were previously in a long relationship, this is a good time to rediscover one's own personality and preferences.
If you're getting back into mature dating after a relationship, you probably know a lot of interpersonal communication and problem solving techniques. You may, however, be unfamiliar with modern dating etiquette.
The addition of increased sexual freedom, fewer restrictive gender roles, and the advent of Internet dating have made a big difference in how people interact when they want to get to know one another better.
This is why it's a good idea to take things slow at first, especially if you're looking for another long-term relationship. Many people are interested in getting back into a stable partnership and they forget to look for warning signs that could indicate bigger problems later on.
This is part of why so many second marriages and long-term partnerships fail. Be willing to relax, enjoy the process of dating, and explore your interests instead of choosing a new partner right away.
Mature Dating Defined
Mature dating implies confidence, stability and the ability to communicate intelligently. It's not just about looking for partners in your own age group.
If you would like to project an image that meets this definition of mature, there are a few techniques you can try.
First, take a little time to build up your self-esteem and form an independent identity. After all, if you don't know who you are and what you want, it will be hard to communicate with a potential date.
Be willing to be honest about what you want out of a relationship. Even if you only want a casual arrangement, you and your partners will have a better experience if you're both on the same page.
Be open and honest about any emotional problems you may harbor from a past relationship or any anxieties you have about the dating world. There's a good chance your date feels the same way.
Remember to look for people who share your hobbies and opinions. If you're filling out an online profile, be up front about who you are and what kind of relationship you're looking for.
The number of single people over 50 online has increased by more than half in the past few years, making it easy for mature dating to lead you to that special someone.